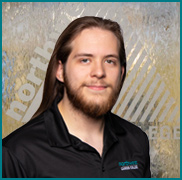 Matthew DeMeo
Administrative Liaison I
C.A.A. National Career Certification Board
Matthew has lived in Las Vegas his entire life and loves the city. A graduate of Cimarron-Memorial High School, which is right across the street from NCC, Matthew decided to continue his education by taking a business administration class with us.
As a professional, Matthew loves the idea of businesses because you can make your passion come to life. He also has a passion for music and cooking so he hopes one day to start a business of his own involving one or the other.
Now a member of our Front Office Team, Matthew thinks the best thing about working for NCC is the environment and the people. He has yet to meet someone here who is negative about their job and that is such a refreshing new addition to my life. He loves his team, and can't wait to see what the future brings to the table!
On the weekends Matthew spends a lot of his time playing guitar, playing video games such as Call of Duty, and hanging out with his best friends. He also goes out bowling once a week to keep his chops up.