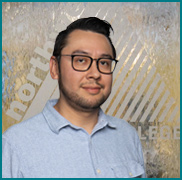 Mario Rodas
Administrative Liaison I
Mario is originally from Los Angeles, California, but has lived in Las Vegas Since 1995. He came out to Vegas with his family as they were looking for better work opportunities and have been here ever since.
Having graduated from Green Valley High School and got his degree from the College of Southern Nevada, Mario now works in our IT department.
Mario has been passionate about working in the IT field ever since he was 11 years old. He has always loved computers and technology so he is excited to have this opportunity to work for such an amazing company where he can start his career.
For Mario, the best thing about working for NCC is the comradery amongst all the employees and higher-ups. Everyone seems to be happy to be here which in turn makes him feel happy to be here as well.
In his spare time, Mario is very passionate about his family's happiness and success. He spends most of his time with his children, having fun with them or helping build them up in their daily lives.