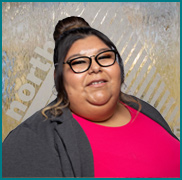 Marina Alvarez, B.S., A.A.S.
Legal Studies Instructor I
A.A.S. Northwest Career College, B.S. National Paralegal College
Born and raised in Las Vegas, Marina is an academic high flyer, having received the Who's Who Award of Academic Excellence in 2008 as well as the President's Education Award from Presidents Clinton, Bush and Obama.
The first person in her family to graduate high school, Marina also graduated from here at Northwest Career College and the National Paralegal College. After running her own DJ/Photography business right after high school, Marina has gone on to qualify as a paralegal and now passes on her passion for education as one of our Paralegal Studies instructors.
Marina's professional passion is to inspire everyone by letting them know her story and her background so they can succeed and create a better future for themselves.
For Marina, the best thing about working at NCC is the chance to spread her knowledge and experiences to other students that will be going through what she experienced and to help make the ride easier and let them know they don't have to go through it alone.
In her spare time, Marina can be found singing, playing the ukulele, being a dog mom, building lego sets, swimming, going to the beach and watching Harry Potter Movies.