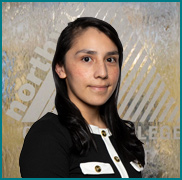 Maria Martinez Romero, R.M.A., R.P.T.
Medical Assistant Instructor I
R.M.A., R.P.T. Northwest Career College
Born in Mexico City, Maria emigrated from Mexico at the age of six. Having graduated from Spring Valley High School and here at NCC, Maria is now a member of our Medical Assisting Team.
Maria has been in love with the medical sector ever since she can remember and she turned that passion into a career in the field for seven years, with dermatology and plastic surgery
being her main specialty. She loves any chance she can get to help others and looks forward to inspiring new students.
For Maria, the best thing about working here at NCC is the friendly and welcoming environment. You really do feel like you are part of one big family.
At the weekends, Maria can be found reading, watching movies, meditating, and listening to music. When she's not at the gym, she can most often be found spending time with her daughter.