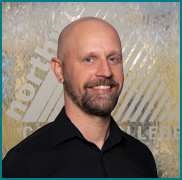 Lance Lisitza, M.T.C.
Student Clinic Lead Instructor
L.M.T. Northwest Career College
Raised in New Mexico, Lance moved to Las Vegas after finishing his term in the army in 2014.
Having studied for his paramedic qualification at Iowa Western Career College in Council
Bluffs, Iowa, he moved on to Physical Therapy Assistant (PTA) school in the Army and finally began working with Dr. Kenny at his chiropractic practice after graduating from the MTB Program here at NCC.
Lance is now a committed member of our instructor team on the MTB Program and is continuing his education by working on a degree in Psychology at CSN.
For Lance, the best thing about working for NCC is the opportunity for idea expression. If you have an idea, put it out there. Someone is going to listen to your idea. The expectation to be continuously innovative and creative is a super positive aspect of working at NCC.
At the weekends, Lance can be found doing Crossfit, spending time with his dog Sammie, and trying to find enough time in his schedule to find good new restaurants with his friends.