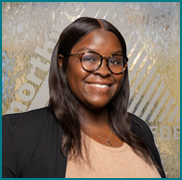 Kay Stewart, MEd., B.A., CSPO
Business Administration Instructor I
M.Ed. Tiffin University, B.A. Northern Kentucky University
Originally from the Midwest, Kay worked in Project Management for nearly 10 years, across different lines of business and has earned a Bachelor of Arts (B.A.) in Integrative Studies as well as a Masters of Education in Higher Education Administration.
Now a member of our Business Administration team, Kay can communicate her passion for higher education and the importance of individuality. Staying true to yourself and achieving goals that resonate with you is of the utmost importance.
For Kay, the best thing about working for NCC is The opportunity to engage with colleagues and students alike, who come from all walks of life.
In her spare time, Kay enjoys travelling to new territories, exploring immersive art exhibits, and trying different brunches.