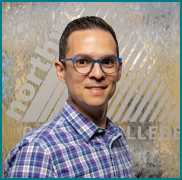 Jeff Stults, L.M.T.
Massage Therapy Instructor I
L.M.T., Northwest Career College
Having lived in Nevada since 1993, Jeff considers himself very much a native. He's a graduate of NCC and loved it so much that he came back twice, first as part of our career services team, then as a Massage Therapy Instructor. Always a fan of helping other people out, Jeff is now enjoying the ability to do that in an official capacity.
Jeff's professional passion is continuing to learn. In any career, he truly believes you should never stop challenging yourself to learn more and the same can be said for your personal life.
For Jeff, the best thing about working for NCC is, hands down, the energy. Everyone is inviting, and friendly, and there is a sincere sense of community.
In his free time, Jeff loves to travel and loves to sing! Some of his accomplishments include singing for/with NASCAR, KC Royals, The Killers, and Adele.