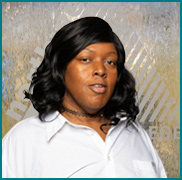 Jacqueline Edwards, C.N.A.
Medical Assistant Instructor I
C.N.A. Academy of Medical Careers
Originally from Rosedale Mississippi, Jacqueline came to Nevada by way of her sister being accepted into UNLV.
A graduate of Horizon East High School, CSN, Jacqueline loved share-shaping experiences, which is her terminology for teaching. She enjoys informing and molding minds. She loves
listening and people watching. Her personal passion is helping those less fortunate.
For Jacqueline, the best thing about working here at NCC is the culture and the opportunity to become a better version of herself and give back what was given to her.
In her time off, Jacqueline spends her time watching crime shows, traveling, and exploring different cultures.