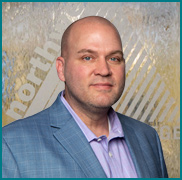 Dennis Nowakowski A.A.S.
Criminal Justice Instructor I
A.A.S. College Of Southern Nevada
Dennis came from very humble beginnings in Chicago's Southside. Having visited Nevada on holiday, he happily left the miserable Illinois winters behind for the sunshine of Las Vegas and to attend the College of Southern Nevada.
Passionate about teaching, Dennis wants the students to succeed both academically and in life. He wants them to be prepared when he sends them into their chosen profession. He wants to give them his best and wants them to learn from his worst. He wants his students and children in the best possible position for success, with the strongest attitude and confidence that they can accomplish anything in life.
Now a member of our Criminal Justice Team, Dennis enjoys the amazing culture here at NCC that brings together the staff and students.
On the weekends, Dennis can be found watching his son play lacrosse, spending time with his three chihuahuas, or practicing his baking skills.