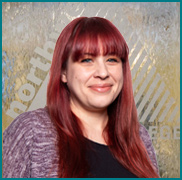 Christel Watson, L.M.T.
Massage Therapy Instructor I
L.M.T. Nevada State Board of Massage Therapy
Originally from Colorado, Christel is a self-described artsy nerd who loves to help people feel better in their day-to-day lives. A graduate of Stanley Lake HS and Pomona HS in Colorado and the Denver School of Massage Therapy, Christel is now a member of our highly regarded Massage Therapy Instructor Team.
Passionate about bodywork and overall health, Christel believes the body is an amazing machine that we need to take care of. For Christel, the best thing about working for NCC is how friendly and accommodating everyone has been and how efficient and smooth the whole onboarding process has been, even though there is a ton to learn and remember.
In her spare time, Christel likes to go for a nice drive or walk with her fiance and their dog, or just stay in and enjoy a quiet evening with movies and good food.