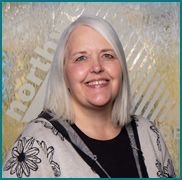 Carrie Oliver, L.M.T., B.A.
Student Relations Coordinator I
L.M.T. Northwest Career College, B.A. Psychology Concordia University
Born and raised in Minnesota, Carrie moved to Las Vegas with her family after spending some time in Dallas, Texas.
A graduate of Concordia University and NCC, Carrie is now a member of our committed Front Office team. People are Carrie's passion, both personally and professionally. She's interested in hearing people's stories and is happiest when she can be of service in big and small ways.
For Carrie, the best thing about working for NCC is the people, as she is surrounded by such a
great team of individuals who are all working to not only provide a positive educational experience for students but to also encourage and uplift one another.
In her spare time, Carrie's hobbies include counting cross stitch and other crafts, reading, and listening to podcasts (mostly true crime). On the weekends you will find her checking out local yard sales, walking her dog, and binging Netflix shows or listening to 70s music with her husband. She also loves a good game night and enjoys feeding everyone!