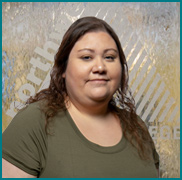 Angelika Garcia, CPhT
Pharmacy Technician Instructor I
CPhT Pima Institute
Angelika is originally from Colorado but moved to Nevada to escape the snow. A graduate of Thornton High School, she also attended the Pharmacy Technician program at PIMA Medical Institute.
A pharmacy technician with a decade of experience under her belt, Angelika now works as a member of our Pharmacy Technician Instructor Team. For Angelika, the best thing about working at NCC is that she can help others and also help people with their careers in pharmacy! She loves to inspire people and let them know they can accomplish anything!
In her spare time, Angelika loves attending concerts, playing video games, sightseeing, traveling, and seeing new things.