Chair Massage in the Workplace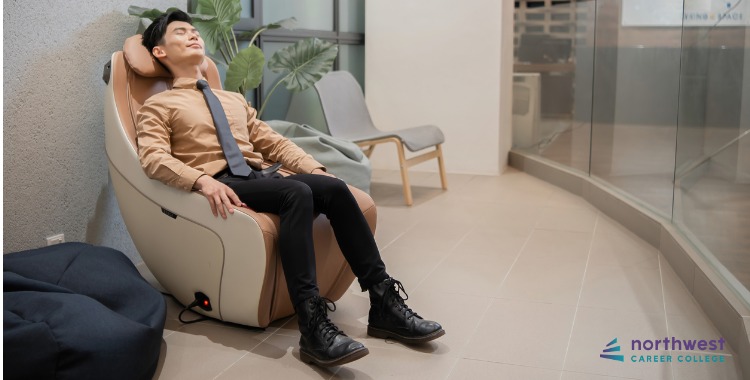 Many of the benefits of chair massage are similar to the benefits of getting a full body massage at a spa, but in the comfort and convenience of a workplace. Onsite massage eliminates the need to travel to a massage clinic or spa, and is a fraction of the cost. Plus chair massage makes massage therapy accessible to those within an organization who are uncomfortable getting undressed and would otherwise never experience massage without it.
Chair massage is typically performed in 15-20 minutes time frames where the recipient is fully clothed and the Massage Therapist is utilizing techniques such as compressions, kneading, friction, and some tapotement.
Benefits of chair massage include:
– 85% stress reduction! Stress levels measured before and after each massage found one of the biggest benefits of seated massage therapy to be a seriously effective office stress reliever.
– Back pain is literally cut in half with regular corporate chair massages. A decrease of 48% decrease was seen in the studies on back pain and tension.
– Headaches are decreased by an average of 48% in duration and intensity with regular onsite massages.
– Increases focus, energy and mental clarity. After chair massages, employees in two studies show increased alertness, speed and accuracy on math computations following treatment.
In conclusion, a general observation of massage being offered and utilized in the workplace regularly shows increased employee productivity, reduce healthcare costs, improve office moral, and overall a better work environment.
If you are interested in a career in Massage Therapy, call Northwest career College today at 702-254-7577 and talk with one of our admissions counselors today. We're waiting for you!