Working As An Office Massage Therapist
March 15, 2019
487 views
4 min read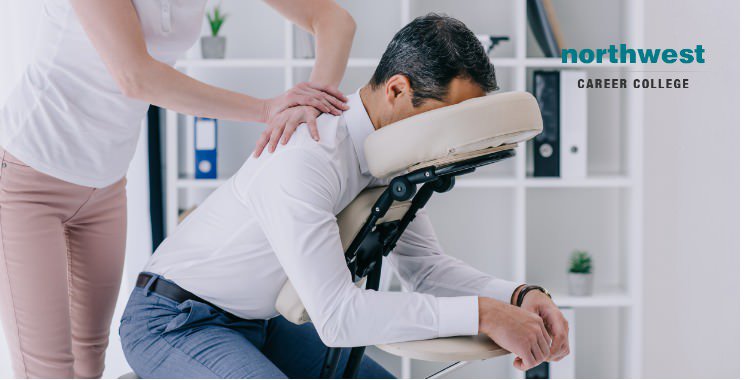 The vast majority of Americans work in an office and work-related stress has become one of the major healthcare factors of the modern workforce. 62% of US workers routinely find that they end the day with work-related neck pain, 44% reported stressed-out eyes, 38% complained of hurting hands and 34% reported difficulty in sleeping because they were too stressed-out
To counteract the rising rate of workplace stress and it's physical consequences, companies are increasingly employing in-office massage therapists.
A 15-minute chair massage has been proven to reduce stress, anxiety, depression, help staff concentrate more effectively, and reduce the risk of stress-related burnout. Hand massage can help to prevent repetitive strain injuries (RSI) if carried out regularly and there is evidence that it reduces blood pressure. Regular massage can help to reduce work-related health absenteeism by addressing problems such as chronic back pain, RSI, and stress before they require medical attention. Massage also has a proven history of helping with sleep problems, which are often brought on by stress, and improving focus, clarity, and energy.
Why Offices Want A Massage Therapist?
Worksplace research has shown that office workers benefit from office massage most during times of stress, usually related to significant change, like the installation of a new computer system that causes the sales teams to suffer abuse from customers, mergers between companies, downsizing, or sudden success and fast-paced growth demanding more employee time.
Massage in the workplace addresses issues related to stress, such as poor posture, stressed shoulders, lower back pain, and headaches brought about by poor computer posture. Massage can also assist with what is known as overuse injuries, repetitive strain injuries (RSI), upper limb disorders (ULDs), eye strain, and occupational overuse syndrome.
Reseach into combatting workplace injuries has shown that a break from the computer of two minutes every twenty minutes or ten minutes in every hour can significantly reduce the chance of developing overuse injuries and that massage therapy is both an effective treatment for many overuse injuries and a method of preventing them from developing.
How To Find Work As An Office Massage Therapist?
The vast majority of office massage therapists work on a freelance basis, although more and more companies are realizing the benefits of office massage and recruiting in-house massage therapists.
As with any form of freelance work, the best way to get new clients is through direct contact and work of mouth. Websites such as LinkedIn are an excellent way for previous and current clients to leave recommendations, highlighting your abilities.
Contacting HR department's director is another method of sourcing work. If you plan to do this, it is best to have a professional email ready, outlining your abilities, experience, and the benefits of office message which you can tailor to suit the specific company.
Follow up this email with a phone call if possible, most HR departments are busy places and your email might have been lost in the huge amount of communications they receive each day. As with any professional phone conversation regarding freelance work, always have you details prepared, such as your fees, the time each massage will take, how many massages you can give in a given timeframe, how much room you will need, and what clothing will need to be worn during the massage.
Join One Of The Best Massage Therapy Schools In Las Vegas Today!
At Northwest Career College, we operate one of the best Massage Therapy Schools in Las Vegas and our Massage Therapy Course will teach you the skills you'll need to apply the benefits of sports massage. The benefits of massage therapy are widely recognized with employment for massage therapists expected to increase by 22% between 2014-2024, with an average massage therapist earning $39,360 a year. Additionally, many massage therapists maintain active, private practices, increasing both their flexibility and earnings.
Our massage student clinic is open seven days a week, for both your and your clients' convenience, and we offer day and night classes to accommodate your work and family schedules. Our instructors are experienced professionals who will prepare you to sit for either the NCBTMB (National Certification Board of Therapeutic Massage) or the MBLEX (Federation of State Massage Therapy Boards) exams and we are proud of our 100% board pass rate. Call us at (702) 403-1592 to speak to one of our enrollment specialists today!