Why qualifying as a Medical Assistant is a great career move
October 4, 2022
593 views
5 min read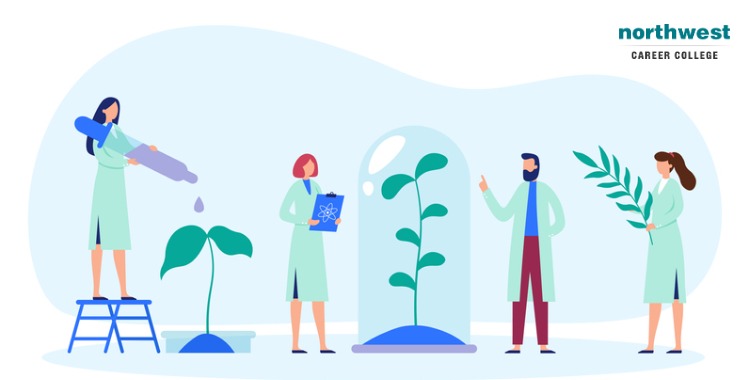 Medical assistants are in high demand all across the United States. That's why it's such a great career move to become one! There are many benefits of qualifying as a medical assistant, and at Northwest Community College (NCC), we can help you do just that.
Our Medical Assisting program is nationally accredited, so you can be sure your education will meet the highest standards. Plus, our graduates have an excellent employment rate. Ready to learn more? Keep reading!
The need for medical assistants is growing rapidly
As a medical assistant, you will enjoy a stable career with good job prospects. According to the Bureau of Labor Statistics, employment of medical assistants is projected to grow 19 percent from 2019 to 2029, much faster than the average for all occupations.
This growth is due to an increase in the number of aging baby boomers and their need for healthcare services. As the population ages, there will be an increasing demand for preventive medical services, which are often provided by medical assistants.
In addition, as healthcare practices expand their services to include more complex procedures, they will require additional support staff such as medical assistants.
What this means for you is that if you're thinking about a career in healthcare, now is the time to make your move. And there's no better place to get started than at NCC.
At NCC, we offer a Medical Assisting certificate program that will give you the skills and knowledge you need to succeed in this growing field.
The program includes both classroom and clinical instruction, so you'll be prepared to work in a variety of medical settings.
Plus, our experienced faculty will provide you with the support and guidance you need to succeed!
Why are medical assistants so valuable?
Medical assistants play a vital role in healthcare teams by performing both clinical and administrative tasks.
They may take patient histories and measure vital signs, assist physicians during examinations, prepare patients for procedures, give injections and perform routine laboratory tests.
On the administrative side, they may schedule appointments, maintain medical records and handle billing and insurance paperwork.
The best part? You don't need a four-year degree to get started in this career. At NCC, our Medical Assisting program can be completed in as little as 18 months. And our graduates earn an average starting salary of $33,390 – that's more than the average for all occupations!
So if you're looking for a rewarding career in healthcare, consider becoming a medical assistant. NCC is the best place to get started. Contact us today to learn more.
We offer day and evening classes to fit your schedule, and financial aid is available for those who qualify. Don't wait – your future starts here!
What qualifications do you need to become a medical assistant?
There are several qualifications that you will need to become a medical assistant. Firstly, you will need to have a high school diploma or equivalent. Secondly, you will need to complete an accredited medical assisting program. And finally, you will need to pass the certified medical assistant exam.
NCC offers an accredited Medical Assisting program that can be completed in as little as 18 months. We also offer job placement assistance to help you get started in your new career.
So why wait? Contact us today to learn more about how we can help you qualify as a medical assistant. We look forward to hearing from you!
Why choose NCC to start your new medical assistant career?
There are many reasons why qualifying as a medical assistant is a great career move. But here at NCC, we think there are three key reasons why our program is the best place to start your new career.
Firstly, our program is accredited by the Commission on Accreditation of Allied Health Education Programs (CAAHEP). This means that our program meets the high standards set by CAAHEP and that you can be confident you are receiving a quality education.
Secondly, our program can be completed in as little as 18 months. We understand that many people who are wanting to change careers may not have the time to commit to a longer program. So, our shorter program length means you can get started in your new career sooner.
Lastly, our program offers an externship opportunity. This allows you to get real-world experience in a medical setting before you even graduate! Hands-on experience is so important in this field, and we want to make sure you are as prepared as possible before you start your new career.

If you are considering a career change, or if you are looking for a new challenge, then qualifying as a medical assistant could be the perfect move for you. And NCC is the perfect place to get
If you are thinking of changing careers, or if you are just starting out and looking for a great career option, then qualifying as a medical assistant at NCC is the perfect choice for you!
Start your new career today
Here at Northwest Career College, we have a student-focused attitude that prioritizes giving our graduates the training and skills they'll need to excel as medical assistants.
Our established and seasoned instructors work with you, teaching you every aspect of Medical Assisting. We help you build your skills, abilities, and confidence, and we are proud of our 88% national exam pass rate.
If you'd like to learn more about what our medical assistant course can offer you, call one of our enrollment specialists at (702) 403-1592 today. We provide flexible learning, with online and on-campus morning, afternoon, and night classes to accommodate your Las Vegas work and family schedule.
Once you've graduated, our dedicated and experienced Career Services team will work with you to help you find the best employment opportunities in Las Vegas. Call us now on (702) 403-1592 to start your journey!