Why Choose a Vocational Route to Work?
August 30, 2023
218 views
6 min read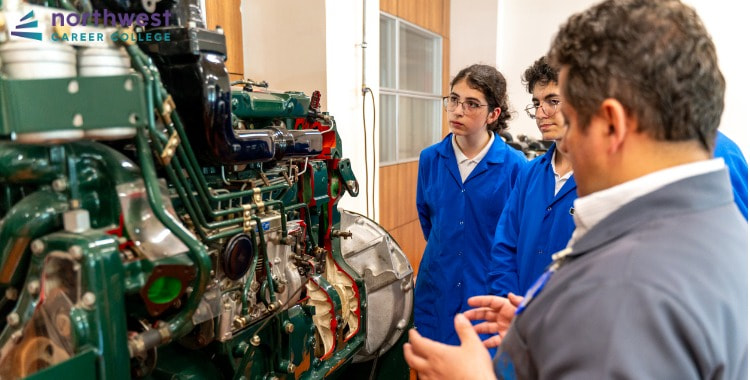 Are you seeking a career path providing practical, hands-on job opportunities? If so, vocational jobs may be the right choice for you! Vocational jobs offer individuals an opportunity to develop specific skills and gain valuable experience in their chosen field of work.
With more businesses embracing remote working and flexible hours, now is a great time to consider taking up a vocational route for your future employment. In this blog post, we'll cover all the reasons why opting for a vocational route could mean unlocking success and satisfaction in your career journey.
We'll discuss some of the main benefits of choosing vocationally-focused job roles as well as tips on how best to prepare yourself before starting down that path. So let's get started!

An Overview of Vocational Training and its Benefits
Vocational training, also known as vocational education and training (VET), equips individuals with the necessary skills and knowledge to perform their chosen profession.
Unlike traditional academic programs, vocational training focuses on practical skills that are essential in the workplace, providing individuals with hands-on experience and knowledge that aren't always taught in a classroom setting.
One of the biggest benefits of vocational training is that it prepares individuals for immediate employment and provides real-world experience that employers value. The hands-on training can help individuals develop an understanding of their industry, hone in-demand skills, and ultimately help them stand out to potential employers.
With the rise of automation and the ever-evolving technological landscape, vocational training has become increasingly important to ensure individuals have the skills required to secure their economic future.

Advantages of Vocational Training Over Traditional Education
It's no secret that traditional education followed by a four-year degree isn't the only path to success. Vocational training is a practical and cost-effective alternative to bloom in the job market.
With a focus on hands-on learning, vocational programs teach individuals the hard skills employers seek instead of just theoretical knowledge. Graduates of these programs are often highly employable and equipped to hit the ground running in their respective fields.
Additionally, vocational training is far more affordable than a traditional degree, saving individuals thousands in tuition fees. Coupled with the shorter duration of the programs, vocational training proves itself to be a smart investment for those seeking career advancement without breaking their wallets.

The Different Types of Vocational Courses Available
If you're looking to learn new skills that are specifically geared toward certain industries, then vocational courses are the way to go. These courses are designed to provide practical, hands-on training that prepares you for a particular field of work. Many different types of vocational courses are available, ranging from healthcare to construction to culinary arts.
No matter your interests or career goals, there's sure to be a course that aligns with your aspirations. By investing your time and energy into vocational courses, you'll likely find yourself gaining new knowledge and experience that opens up doors to exciting career opportunities.

Important Considerations Before Choosing a Vocational Course
When considering a vocational course, it is vital to consider various factors to make the best decision for your career path. Firstly, evaluating your interests and strengths is crucial to assess which fields align with your passions and talents.
Additionally, research the job market to ensure that the course you choose leads to a viable and in-demand profession. You should also consider the institution's location, the course's duration, and the cost of tuition and materials.
Lastly, take advantage of available guidance and support services to help you navigate the process and make an informed decision that will set you up for success in your chosen career.

How to Find the Right Vocational Course for You
Choosing the right vocational course can be daunting, but it's not impossible. There are a few essential factors to remember when searching for the perfect course for you.
Firstly, assess your interests and passions. Do you see yourself working in a specific industry or field?
Secondly, evaluate your strengths and weaknesses. This will help you choose a course that aligns with your skillset and improves your weaker areas. Additionally, research institutions that offer the course and look at their resources and reputation.
Don't forget to consider the course's duration and cost and any other commitments you may have. With careful consideration and research, you can find the right vocational course to pave the way for your future success.

The Benefits of Completing a Vocational Course Successfully
Completing a vocational course successfully is a major accomplishment that can bring a wide range of benefits. For starters, vocational courses are designed to provide practical skills and knowledge that can help individuals gain employment in specific fields. 
By mastering these skills and obtaining certification, you can show employers that you are well-prepared to tackle the job demands. In addition to improving your job prospects, completing a vocational course can also boost your confidence and give you a sense of pride in your abilities.
Whether you are interested in healthcare, technology, or skilled trades, there is no denying the many advantages of investing in your education and pursuing a vocational course.
A vocational route to work can be an ideal way to get on the career ladder, even in today's competitive job market. Vocational training can provide you with a wide range of practical skills, which could open up various pathways throughout your professional life.
Turning
Whether you're looking for a change in career or wishing to make a smooth transition into university degree programs, our tailored courses could help you stand out from the crowd and give you an edge when applying for jobs.
You should also remember that the benefits of completing a vocational course successfully are far-reaching. It can lead to increased employment opportunities and provide you with invaluable practical skills that could stay with you for life.
If you're seriously considering changing direction by going down the vocational path, please contact Northwest about our Vocational Program and learn more about how this training can benefit your future prospects.



Your Path to an Exciting New Career
When you get a vocational qualification, you open a world of possibilities for yourself.
Whether it's increased earning potential, having access to better certifications, or standing out from your peers when you apply for jobs – a vocational qualification can give you the edge you need.
With more job opportunities being available to those with specialized skills and knowledge, enhancing your resume with a technical training course or qualification puts you one step ahead in the competitive job market.
Additionally, learning from industry experts and getting hands-on experience applying the skills you learn gives graduates practical project experience that employers are looking for in an ideal candidate.
If you're interested in pursuing a career through vocational training, contact Northwest Career College today about our vocational training options. Our team of experts is equipped with the experience required to set students up for success in their chosen fields.