What Skills Are Important For A Pharmacy Technician?
August 18, 2021
525 views
3 min read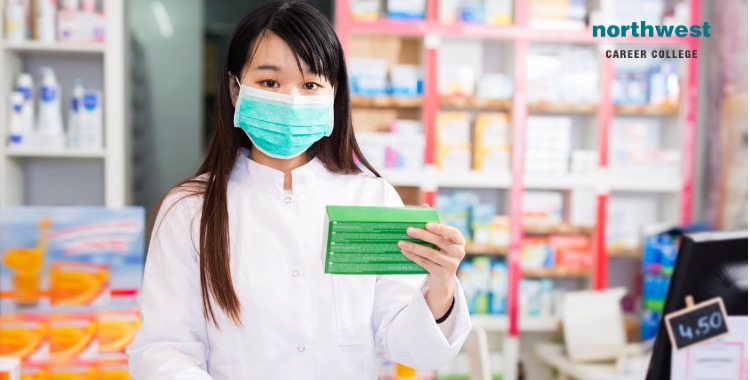 There are many traits and job skills you should possess to be successful as a pharmacy technician. Some of these skills you may already have and some you'll learn during your college program.
What Education and Training Does a Pharmacy Technician Need?
First, you must have a high school diploma before applying for further education. You'll then need to attend an accredited Pharmacy Technician program, such as the one offered through NCC.
During your studies, you'll learn the basics of pharmacology, customer service, pharmacy skills and so much more. The program can be completed in under a year.
After program completion, you must then become certified by passing the National Pharmacy Technician Certification exam. Once certified, you'll be eligible for entry-level employment as a pharmacy technician.
Personal Skills
Personal skills, also known as soft skills, are important for your career. For example, you must be able to make sound decisions and follow instructions when mixing prescriptions. Some of the personal skills you need include:
Dependability
Attention to detail
Multitasking
Organization
Task prioritization
Teamwork
Communication
Career Skills
There are also career-specific skills you must develop for success. For example, you'll need to be able to understand insurance and how to conduct transactions.
You also need to know medical terminology and how to check prescriptions for accuracy.

To ensure the safety of your patients, you'll need to know how to properly mix and administer prescriptions. Other career and technical skills you'll need include:
Maintaining medical records
Preparing labels for bottles
Interpreting prescriptions sent from medical professionals
Processing payments
Resolving discrepancies in billing
Preparing compounds
Most of these skills you'll learn during your pharmacy program. The rest you'll develop as you gain experience in the field.
Communication Skills
Perhaps the most important skills to develop are those involving communication with colleagues and patients. For example, you'll need to be able to carefully explain prescription instructions to patients. You'll also need to:
Answer patient questions
Explain prescription costs and available payment options
Preserve patient confidentiality
Start Your New Career As A Pharmacy Technician Now!
Northwest Career College is one of the premier pharmacy technician schools in Las Vegas. Our course provides our students with the skills and training they need to take advantage of the growing need for pharmacy technicians.
Our experienced instructors offer online and on-campus classes to accommodate your Las Vegas work and family schedule. Call us today at (702) 403-1592 to speak to one of our enrollment specialists.