What Is An IT Technician?
December 17, 2022
227 views
6 min read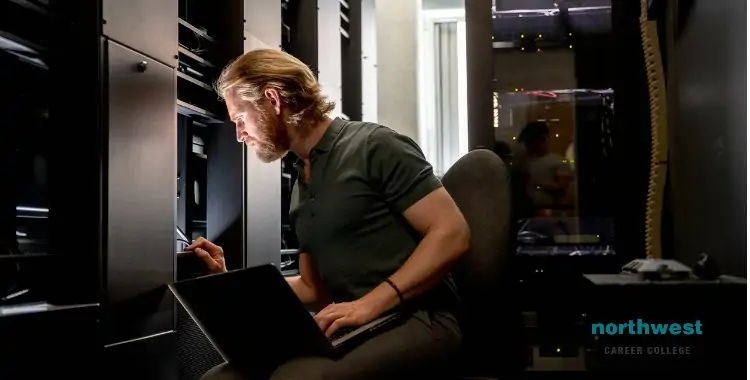 An IT technician is a professional responsible for maintaining, repairing, and troubleshooting computer hardware and software. They are also responsible for managing networks and ensuring that system security is maintained.
As technology advances, the role of an IT technician becomes more important in society. With the ever-growing dependence on computers and other electronic devices, businesses and individuals rely heavily on technicians to keep their systems up and running.

If you're considering becoming an IT technician, you'll need to have a fundamental understanding of computer hardware and software. You'll also need to be familiar with operating systems and troubleshooting techniques.
In addition, IT technicians must be able to work with people from different backgrounds and understand their needs. Finally, they must possess strong problem-solving skills to solve complex problems quickly and efficiently.

In this article, we'll discuss the steps you need to take to become an IT technician. We'll also provide some tips on how to stay ahead of the curve.
Defining an IT technician
An IT technician is a crucial position in any workplace. This professional is responsible for setting up, maintaining, and troubleshooting computer systems, networks, hardware, and software. They must possess effective problem-solving abilities and knowledge of the IT technology tools used in their field.
Whether it's dealing with connectivity issues over a network, upgrading system software or fixing hardware problems, an IT technician's job is to ensure the systems are working properly at all times. Along with technical know-how, communication skills are essential for this role as technicians often determine user needs and train non-technical staff on the use of systems and equipment.
IT technicians act as valuable assets within organizations—without them, many operations would suffer greatly.
The skills required to be an IT technician
Becoming a successful IT technician requires a set of highly specific skills. Most importantly, assessing technical strengths and weaknesses is essential to identify any limitations in knowledge. Analytical and problem-solving abilities are also crucial for troubleshooting complex computer systems and seeking out the best solutions.

In addition, the ability to quickly learn new technologies is a prerequisite for success in this field. Furthermore, great communication skills are important when dealing with customers and colleagues.
An IT technician must be able to accurately explain technical processes in terms that are easy for clients to understand. Finally, strong organizational skills are useful in staying on top of deadlines and requirements when managing complex IT projects.
The duties of an IT technician
As an IT technician, it is vital to possess technical expertise and skills. Your primary responsibility will be supporting users and customers in resolving their issues related to technology. You are expected to install, reset, maintain, troubleshoot and repair hardware and software systems as well as configure networks or diagnose problems.
Additionally, other duties may include helping with technological needs such as data backup and archiving, and monitoring system performance and security. Furthermore, you may also need to provide training and instructions on the proper usage of equipment or software solutions provided by the company.
Being able to think quickly on your feet while staying organized can help turn a frustrating experience into a positive one for those who rely on your technical help!
The work environment of an IT technician
Working as an IT technician can be a very fulfilling role for those with a knack for problem-solving and technology. No two days are the same in this field, as IT technicians are responsible for troubleshooting hardware and software, maintaining networks, and other related technical duties.
Working in this role requires strong analytical and communication skills, as well as a dedication to staying up to date on industry trends. While it can be challenging at times, the job satisfaction when successfully resolving a technical issue is worth it.
It certainly isn't the most glamorous of occupations, but it can provide both financial stability and personal gratification – not to mention the satisfaction of having mastered such an important skill set!
How to become an IT technician
To become an IT technician, one needs a combination of hard skills and soft skills. Possessing hard skills in computer hardware setup and programming are essential foundations to any IT technician's career. In addition, networking certifications such as 'Network +' or 'Security+' may be beneficial for technicians who want to specialize in specific areas.
Other vital components include the ability to learn quickly from various sources, plus troubleshooting experience. Soft skills are just as important, including communication and customer service expertise. Those who possess empathy and patience when working with people will excel in this role because IT technicians essentially act as a bridge between complex technology and users that may not completely understand the concept.
Finally, keen attention to detail is key; failure to recognize certain details could have serious consequences, so being alert is a must.
Start your new career as an IT technician
An IT Technician maintains, repairs, and installs computer hardware and software systems. They are responsible for ensuring that all computers, servers, networks, and data storage systems operate smoothly and securely.
The work environment of an IT Technician is usually in an office building or data center. Most IT Technicians work full-time during regular business hours. Some may need to be on call 24/7 to respond to emergencies. If you want to become an IT Technician, the best way is to get training from a reputable institution like Northwest Career College.
We offer an affordable program that can be completed in as little as eight months. Call us today to learn more about how we can help you start your new career as an IT Technician!
Join the NCC IT technician program today
NCCs' Information Technology Technician program will prepare you for a successful career in IT. You'll learn the fundamentals of hardware and software, network administration, database management, computer security, and more.
We also provide hands-on training with industry-standard equipment to give you real-world experience. Our instructors are experts in the field who will guide you every step of the way and help you master the skills needed for a successful career in IT.
Our program is designed to be flexible, so you can fit it into your busy life. We offer both online and on-campus courses, with an accelerated program that can be completed in as little as nine months. Our classes are affordable, and affordable payment plans are available.
Contact us today at (702) 403-1592 to learn more about our IT program and how it can help you reach your career goals. We look forward to hearing from you!