Top 5 Reasons Why You Should Pursue a Career in Dental Assisting
June 9, 2023
288 views
5 min read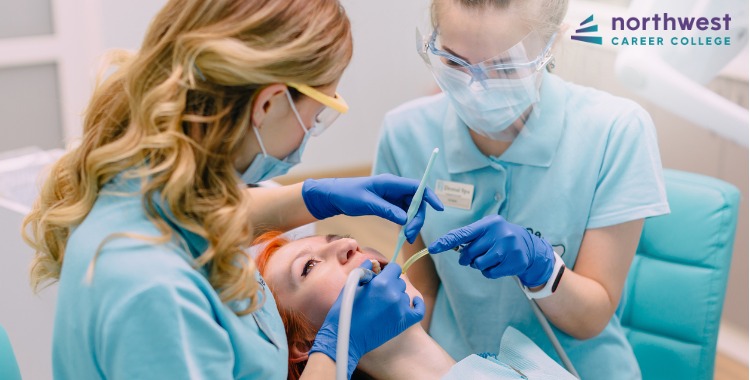 Are you looking for a career choice with stability, growth potential, and the opportunity to make a real difference in people's lives? If so, dental assisting might be the perfect field for you!
Dental assistants are highly valued members of any dental team; they help organize and oversee daily operations while providing excellent care to patients from all walks of life.
This article will cover the top five reasons why becoming a dental assistant may be the right choice for your future. From gaining hands-on experience to having job security and flexibility — pursuing a career as a dental assistant has many advantages.
Let's dive in and explore just what makes it an ideal professional path!

Dental assistants are in high demand – With a growing and aging population, the demand for dental care is increasing, which means more opportunities for dental assistants
Dental Assistants are a vital component of the dental care team, playing a pivotal role in ensuring that patients receive the best possible care. With the population growing and aging, the demand for dental care is increasing, leading to a high demand for skilled Dental Assistants.
These professionals work alongside dentists, performing various tasks such as preparing patients for dental procedures, assisting with dental procedures, and educating patients on proper oral hygiene.
As the demand for dental care continues to rise, it's a great time to consider a career as a Dental Assistant, where you can make a real difference in patients' lives while enjoying a rewarding and fulfilling career.

Great earning potential – On average, dental assistants earn competitive wages and have the opportunity to advance within their career
Dental assisting can be a rewarding career with excellent earning potential. According to recent data, dental assistants typically earn competitive wages, and that's just the start.
There are many opportunities for advancement in this field, as experience and skills are highly valued by employers. With dedication and a strong work ethic, dental assistants can work their way up in the industry, taking on leadership roles and expanding their responsibilities.
Beyond the financial benefits, dental assisting is also a fulfilling profession, as it involves helping people maintain their oral health and hygiene. If you're looking for a career that offers both personal satisfaction and financial stability, dental assisting may be the perfect fit for you.

Flexible schedule – As a dental assistant, you can typically create your own schedule so you can still make time for other commitments or hobbies
If you're looking to pursue a career as a Dental Assistant, one of the biggest perks is being able to create a flexible schedule that fits around your other commitments and hobbies.
Whether you're a parent looking to spend more time with your children or a student pursuing other academic interests, being a Dental Assistant grants you the freedom to build a schedule that works for you.
Plus, knowing that you have the ability to maintain a work-life balance can lead to a happier, more fulfilling career, giving you the energy and motivation to excel in your field. So, if you're looking for a career that offers flexibility and autonomy, becoming a Dental Assistant could be the perfect choice for you.

Variety of responsibilities – A Dental Assistant has many responsibilities, such as helping with lab work, assisting with patient care, taking X-rays, scheduling appointments, and more!
A career as a Dental Assistant is not for the faint of heart! With a variety of responsibilities, each day is different and exciting. From helping with lab work to assisting with patient care, there is never a dull moment as a Dental Assistant.
Although it can be a challenging job, the rewards are plenty. The opportunity to work closely with patients and ensure their dental health and well-being can be incredibly fulfilling. Taking x-rays and scheduling appointments are only a few of the other tasks that a Dental Assistant must take on, making for a dynamic and well-rounded profession.
If you're looking for a career that keeps you on your toes and allows you to help others, becoming a Dental Assistant may be the perfect fit for you.

Job satisfaction – Not only do you get to help others improve their oral health but there is also job satisfaction from seeing how your work positively affects people's lives!
Working as a dental assistant is not just about performing clinical tasks – it's about helping others achieve better oral health and enhancing their overall quality of life. Seeing the positive impact that your work has on people's well-being is a feeling that genuinely cannot be matched.
Every day, you work closely with patients, providing them comfort and care as you assist the dentist in delivering top-notch treatments.
Knowing that you played a crucial role in their journey toward achieving a healthier smile is what job satisfaction is all about, and it's something that makes being a dental assistant truly fulfilling and gratifying.
If you are considering getting into this field, know that you will gain great job satisfaction from seeing how your work positively affects people's lives.
Northwest offers an excellent Dental Assisting Program that can help prepare you for a successful career in this field – contact us today to learn more about our program and get started on achieving your goals!



Join one of the best Dental Assistant training schools in Vegas
Here at Northwest Career College, we firmly believe that learning is a process that continues on the job.
Our Dental Assistant Training Course gives you all the critical skills and experience you'll need to find the best dental assisting employment opportunity in Las Vegas.
Our Dental Assistant School offers morning, afternoon, and night classes to accommodate your busy work and family schedule.
Our established, seasoned instructors have helped our students achieve a 91% national exam pass rate. Call us at (702) 403-1592 to speak to one of our admissions assistants about your new dental assisting career.