Three Reasons You Should Train As A Medical Assistant
November 13, 2018
156 views
5 min read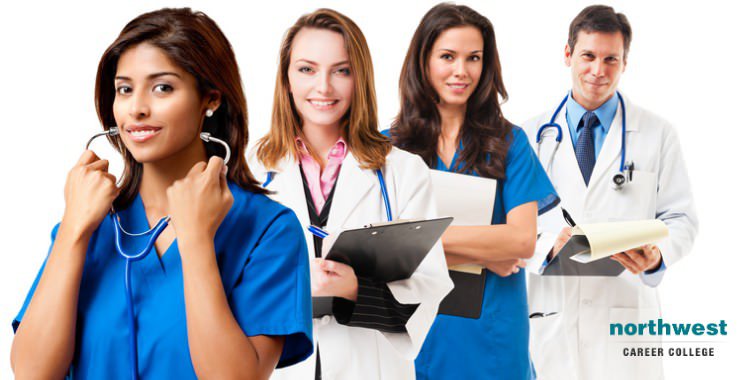 If you're considering pursuing a career in healthcare, then training as a medical assistant will allow you to do meaningful work every day and acquire the skills you need to make a real difference in your community.
Medical assistants play a vital role in any healthcare provider. They are an essential part of the day-to-day operations and the work closely with the patients, often being the first person a patient sees when they enter practice.
Because of the important role that medical assistants play in providing excellent healthcare, the number of open medical assistant positions in on the rise. Employment for medical assistants is expected to increase 23% from 2014-2024, faster than average for all occupations according to the United States Bureau of Labor Statistics.
As an in-demand occupation, medical assistants have great earning potential. A medical assistant earns, on average, $31,540 a year, with more than half of currently employed medical assistants earning far more.
Training from expert schools like Northwest Career College can see you qualified as a medical assistant in as little as 9 months and the demand for newly graduated medical assistants means we have an 89% successful job placement rate. So if you're looking to qualify into an exciting new profession, here are three reasons you should train as a medical assistant at Northwest.
You'll Be A Key Part Of A Hugely Important Team
Becoming a medical assistant isn't like any other job. You'll be working alongside doctors, nurses and other medical professionals and helping to save lives. A medical assistant is often the first person in a healthcare practice that a patient comes into contact and it will be down to you to put those patients at their ease, keeping them calm and upbeat as you guide them through the examinations and procedures they are about to undergo.
Being able to help people in this manner makes working as a medical assistant one of the most rewarding professions  you can be a part of. A recent survey of medical assistant graduates reported a 97% jobs satisfaction rate one year after graduation. The main reported reason for this job satisfaction rate was the ability to spend each day helping people.
You'll Never Have A Boring Day
Being a medical assistant means taking responsibility for a huge range of different tasks. This means every day is a new and exciting challenge and you will be called upon to perform an engaging mix of administrative and clinical tasks.
One moment you might be assisting in the practice's administration by updating electronic health records, arranging appointments, greeting patients or helping to handle billing or insurance claims. On the clinical side, you might be asked to check vital signs, assist with patient exams, prepare blood samples or even give injections or medication to patients, depending on which state you are in.
This constantly changing working environment has two major advantages. Firstly, you'll never be bored. There is always something to be done in healthcare practice and it's rare indeed that you'll find yourself standing around.
Secondly, the huge range of medical and administrative experience you can gain from working a medical assistant allows you to progress into a number of different fields. Medical assistants can leverage their administrative abilities to go on to become an office or practice manager. If you prefer clinical work, there is always the option to continue your education, becoming a nurse or even a fully qualified doctor.
Now Is An Amazing Time To Become A Medical Assistant
As the need for health care in the U.S continues to rise exponentially, the need for skilled and qualified medical assistants in continuing to rise. The Bureau of Labor Statistics expects medical assistant employment increase 23% by 2024, creating an addition 138,900 medical Assistant positions.
Choosing a career in medical assistant means job security, job satisfaction, great advancement opportunities and access to great earning potential. By enrolling in a school like Northwest Career College, you could graduate as a medical assistant, and gain access to all these fantastic opportunities, in as little as 9 months.
Start Your Career In Medical Assistant Today!
Here at Northwest Career College, we have a student-focused attitude that prioritizes giving our graduates the training and skill set they'll need to excel as medical assistants. Our established and seasoned instructors work with you, teaching you every aspect of Medical Assistant. We help you build your skills, abilities, and confidence, and we are proud of our 88% national exam pass rate.
If you'd like to learn more about what our medical assistant course can offer you, call one of our enrollment specialists at (702) 403-1592 today. We provide flexible learning, with online and on-campus morning, afternoon, and night classes to accommodate your Las Vegas work and family schedule. Once you've graduated, our dedicated and experienced Career Services team will work with you to help you find the best employment opportunities in Las Vegas. Call us now on (702) 403-1592 to start your journey!