The Benefits of Pursuing a Vocational Qualification – How It Can Elevate Your Career
July 29, 2023
250 views
6 min read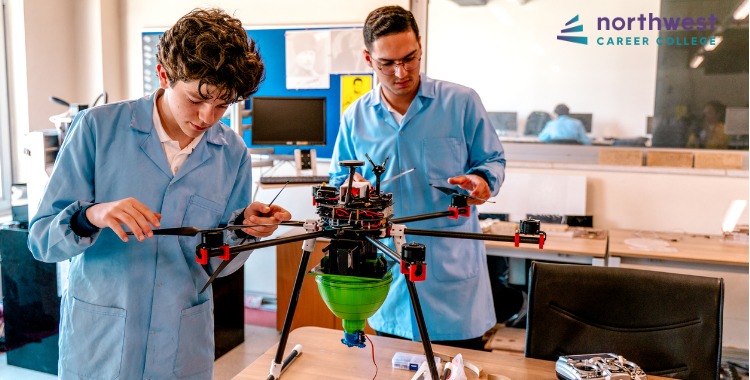 Pursuing a vocational qualification may be the right option for you if you are looking for a more direct path to career success. Vocational qualifications are an ideal way of boosting your skillset and helping to unlock higher-paid job roles with greater opportunity.
These certifications enable you to demonstrate your technical proficiency in various fields while showcasing your commitment and competence level when applying for jobs. They can also provide recognition and appreciation from potential employers as they recognize an individual's dedication to their chosen trade or craftsmanship.
At Northwest Career College, we offer vocational qualifications across a wide range of professional disciplines – read on to learn more about the benefits of adding a vocational qualification to your resume!

Understand the different types of vocational qualifications and their benefits
When it comes to pursuing a career, many people opt for vocational qualifications. These qualifications are geared towards providing practical skills and knowledge that are relevant to a specific profession.
Different types of vocational qualifications are available, from apprenticeships to diplomas and certificates. Each qualification has its own unique benefits, such as improved job prospects and higher earning potential. Additionally, vocational qualifications often have a shorter duration and lower cost compared to traditional academic degrees.
Whether you're interested in IT, healthcare, or construction, there's a vocational qualification that can help you achieve your career goals.

Identify the benefits of pursuing a vocational qualification, such as increased job security, higher pay, and more career options
In today's competitive job market, it's no secret that having a diverse set of skills and qualifications can increase job security and career advancement. Pursuing a vocational qualification, such as a certificate or diploma in a specific trade or skill, offers numerous benefits to individuals looking to boost their career prospects.
Not only does it provide valuable hands-on training and experience, but studies show that those who achieve a vocational qualification generally receive higher pay and have access to more job options. From becoming an electrician to a chef to a dental assistant, vocational training opens doors to a variety of exciting and rewarding careers.
So, whether you're just starting out or looking to switch paths, consider the long-term benefits of earning a vocational qualification.

Learn ways to get started in pursuing a vocational qualification, such as researching programs, looking into financial aid opportunities, and networking with professionals already working in the field
Choosing to pursue a vocational qualification is a smart decision that paves the way for a promising career. However, the process of getting started can be daunting without proper guidance.
That's why it's essential to start by researching the various available programs to find the one that best fits your interests and goals.
Financial aid is also a crucial factor to consider, so take advantage of any opportunities to help ease your education's financial burden.
Finally, networking with professionals who already work in your desired field will give you an insight into what to expect and provide you with equipment for success.
Remember, embarking on a path to a vocational qualification is a step forward toward a brighter future.

Find out how to best prepare for and successfully complete a vocational qualification program
Embarking on a vocational qualification program is wise for anyone looking to enhance their career prospects. However, like all things worth having, it takes effort, motivation, and dedication.
To make the most of your vocational qualification program, it's important to properly prepare and plan beforehand. Understand the curriculum, what you'll be learning, and the skills that successful graduates have.
Seek out the advice of former students and teachers and build a support system that'll help you through the course. Additionally, stay focused on your end goal when studying since the nature of vocational qualifications is to prepare you for a specific role.
With the right mindset and preparation, you can successfully complete your vocational qualification and achieve your career goals.

Discover how obtaining a vocational qualification can lead to increased opportunities in your current position or potential new career paths
Obtaining a vocational qualification can open up a world of new opportunities in your current job or help you transition into a new career path. With the increasingly competitive job market, having a specialized skill set can give you a significant edge over other candidates.
It demonstrates a commitment to continued learning and professional development and can also lead to promotions and salary increases. Additionally, vocational training can provide practical, hands-on experience that is invaluable in the workplace.
Whether you're looking to upskill or explore a new direction altogether, investing in a vocational qualification can be a wise choice for your career development.



Explore how using your newly acquired skills from a vocational qualification can help you excel in your current role or land that dream job you have always wanted
Obtaining a vocational qualification is a significant accomplishment. It requires dedication, time, and energy. The practical skills learned from such a program can be invaluable in the workforce.
If you are looking to advance in your current role or land that dream job you have always wanted, your newly acquired skills can help you achieve your goals.
These skills can demonstrate your ability to complete tasks efficiently and effectively, setting you apart from others. They showcase your commitment to personal growth and development and your willingness to take on new challenges.
With your vocational qualification in hand, you can confidently pursue opportunities that were once out of reach. Your potential is limitless, and your skills will help you excel in any role.

Start Your New Career Today!
At Northwest Career College, our vocational programs will provide you with essential skill sets so that you have the confidence and capabilities to impact lives while attaining your goals.
Our knowledgeable and certified staff will guide you throughout your journey, as making a career change can be scary and daunting.
With many support avenues built into our culture at Northwest Career College, we will ensure you have a positive experience in launching your new career.
Don't wait any longer. Contact us today about our vocational programs to begin your path to success!