So you want to be a massage therapist: The ultimate guide
April 8, 2022
557 views
4 min read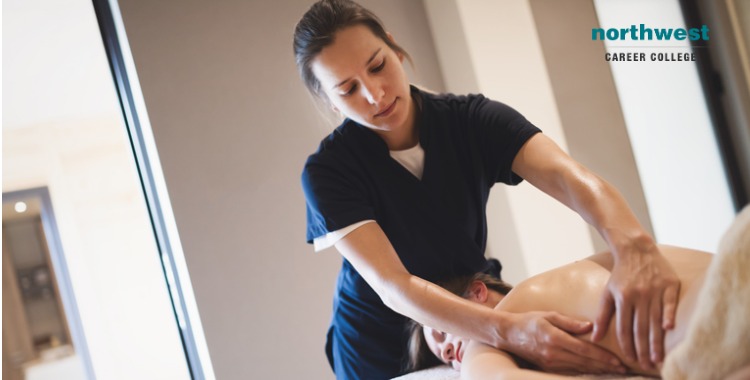 Are you looking for a new career? Northwest Career College can help! Our Massage Therapy program will teach you everything you need to know to start your new career in massage therapy.
We offer flexible schedules and our instructors are some of the best in the business. In this guide, we will discuss the steps that you need to take to become a massage therapist. Let's get started!
What is a massage therapist?
A massage therapist is a professional who provides massage therapy services to clients. Massage therapy is a form of treatment that uses manual manipulation of the muscles and joints to improve health and well-being.
Massage therapists use a variety of techniques, including Swedish massage, deep tissue massage, and sports massage, to help their clients feel better.
Why become a massage therapist?
There are many reasons why you might want to become a massage therapist. Maybe you have been a massage enthusiast for years and would like to turn your passion into a career.
Or maybe you are looking for a new challenge and want to help people feel better. Massage therapy is a rewarding profession that allows you to make a difference in people's lives.
What is Northwest Career College?
Northwest Career College (NCC) is a nationally accredited school that offers an excellent massage therapy program.
NCC's program is designed to give you the skills and knowledge you need to succeed as a massage therapist. The college also offers job placement assistance to help you find a job in your area.
How Does the Program Work?
The massage therapy program at Northwest Career College is broken down into five modules:
Massage Theory

Anatomy and Physiology

Pathology

Clinical Massage Therapy I and II

Business Practices for Massage Therapists
Each module consists of a variety of courses that will help you build the skills you need to be a successful massage therapist. In addition, NCC offers an externship program that will give you the opportunity to apply what you've learned in a clinical setting.
What are the steps to becoming a massage therapist?
The first step is to choose the right school. Northwest Career College offers an excellent Massage Therapy program that will teach you everything you need to know to start your new career. Our program is flexible and our instructors are some of the best in the business.
The next step is to get licensed. In order to work as a massage therapist in Nevada, you must be licensed by the Board of Massage Therapy. The process of becoming licensed can be a little daunting, but our staff at Northwest Career College will help guide you through it every step of the way.

Once you have completed your training and obtained your license, it's time to find a job! There are many different places where you can find work as a massage therapist. Some of our students find work in salons, spas, or resorts. Others choose to start their own business.
Working as a freelance massage therapist can be a great way to get started in the industry. It allows you to set your own hours and rates, and gives you the freedom to work from wherever you want.
No matter what path you choose, Northwest Career College will always be here to support you. We offer career counseling and job placement services to our graduates, so you can always find the perfect job for you.
We hope this guide has been helpful! If you have any questions, please don't hesitate to contact us at Northwest Career College. We would love to help you start your new career in massage therapy!
Join one of the best Massage Therapy Schools in Las Vegas today!
At Northwest Career College, we operate one of the best Massage Therapy Schools in Las Vegas, and our Massage Therapy Course will teach you the skills you'll need to apply the benefits of sports massage.
The benefits of massage therapy are widely recognized, with employment for massage therapists expected to increase by 22% between 2014-2024, with an average massage therapist earning $39,360 a year. Additionally, many massage therapists maintain active, private practices, increasing both their flexibility and earnings.
Our massage student clinic is open seven days a week, for both your and your client's convenience, and we offer day and night classes to accommodate your work and family schedules.
Our instructors are experienced professionals who will prepare you to sit for either the NCBTMB (National Certification Board of Therapeutic Massage) or the MBLEX (Federation of State Massage Therapy Boards) exams, and we are proud of our 100% board pass rate. Call us at (702) 403-1592 to speak to one of our enrollment specialists today!