Research Shows Why Dental Assistants Are Vital to Dental Practices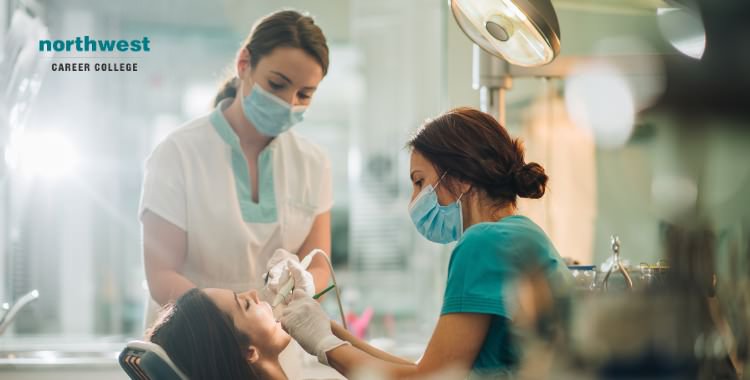 We've often said that dental assistants are the beating heart of any dental practice, and now, thanks to the DALE Foundation, we've got the numbers to prove it.
The DALE Foundation's "Value of Dental Assistants to the Dental Practice" research, which involved interviewing over 3,000 dentists, dental hygienists, dental office managers, and dental assistants shows just how important the role of dental assistant actually is.
So, if you are considering starting a career as a dental assistant by training with us here at Northwest Career College, here are some insights into just how much of an impact your choice can make.
Dental Assistants Increase Practice Productivity
Of the 3,000 dentists and dental office managers interviewed, 99% of the agreed that those dental assistants contribute to the productivity of the dental practice. 
The most commonly cited examples of how dental assistants improve productivity are allowing the dentist to move to the next patient more quickly, increasing team synergy, and shouldering some of the responsibilities during dental procedures to help prevent dentists' burnout.
Dental Assistants Increase Patient Retention
Due to their patient care and interpersonal skills, dental assistants increase overall patient retention. 97% of dentists and dental office managers interviewed by DALE agreed that the lack of a dental assistant would result in lower patient retention while 91% added that dental assistants play a vital part in getting patients to accept dentist-recommended treatment.
Dental Assistants Are Vital for Infection Control
Infection control is one of the most important duties in any dental practice. Proper infection control is critical to keeping both patients and staff safe. Generally, sterilization and disinfection duties are delegated to dental assistants in the practice and a dental assistant may also function as the practice's infection control coordinator.
Of those interviewed, 99% of dentists and dental office managers agreed that having a dental assistant on staff activity increased the level of infection control for the practice.
A Vital Member of Staff
As you can see from the results of the Value of Dental Assistants to the Dental Practice survey, the presence of a well trained and committed dental assistant improves the quality of most dental practices at every level.
So, if you are looking for a job where you can make a significant difference to both patients and staff, call us today to start your journey to becoming a qualified dental assistant.
Join One Of The Best Dental Assistant Training Schools In Vegas 
Here at Northwest Career College we firmly believe that learning is a process that continues on the job. Our Dental Assistant Training Course gives you all the key skills and experience you'll need to find the best dental assisting employment opportunity in Las Vegas. Our Dental Assistant School offers morning, afternoon and night classes to accommodate your busy work and family schedule and our established, seasoned instructors have helped our students achieve a 91% national exam pass rate. Call us at (702) 403-1592 to speak to one of our admissions assistants about your new dental assisting career.
Written by:
Cynthia Lofquist, R.D.A.
Dental Assisting Program Chair
Concorde Career Institute