How to Become a Paramedic/EMT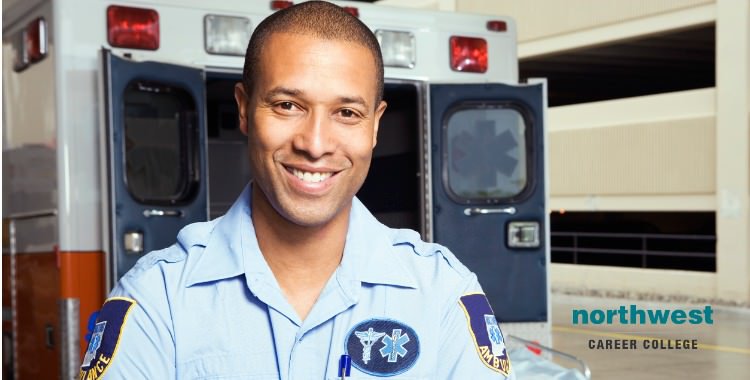 Saving lives is something that anyone can learn to do at any point, which is exactly why we here at Northwest offer free CPR classes to our students. However, for some, the act of saving a life becomes a calling, leading them to train as some of our most valued first responders, paramedics and emergency medical technician (EMT). If a career saving the lives of other appeals to you, here is a short guide to becoming a paramedic or EMT.
Paramedic/EMT: What Is the Difference?
The terms paramedic and EMT are used fairly interchangeably, but the reality is that they are tow different jobs roles with two different sets of responsibilities. EMT training focuses on life support techniques in first-response situations, including CPR, tourniquet application, and treatment of wounds. Paramedics deliver more advanced procedures and therefore require more extensive education and training.
What Does a Paramedic/EMT Do?
EMT's provide immediate medical attention in emergency situations, such as car crashes, natural disasters, in-home health failures, and accidents. They are trained to provide first-aid techniques such as CPR and treating a variety of external wounds.
Becoming a paramedic requires additional training in order to master advanced medical skills such as administering IVs and providing respiratory procedures.
How Much Does a Paramedic/EMT Earn?
Paramedics tend to enjoy a greater earning potential and more professional opportunities than EMTs, though the median pay for both is $31,700. Those on the top end of the spectrum, usually composed of paramedics, make an average of $54,690 annually. The average salary for an EMT/Paramedic in Nevada is $32,760.
Paramedic/EMT Career Outlook
According to the Bureau of Labor Statistics, jobs for paramedics and EMTs are expected to grow by 23 percent between 2012 and 2022. This rate is significantly faster than most occupations in the nation. This is in part due in part to the rise in specialized medical facilities requiring paramedics to transfer patients for treatment. A growing elderly population also creates an increase in health emergencies such as strokes or heart attacks.
What Training Is Required?
● Complete EMT Basic Training – EMT basic training (EMT-B) takes anywhere from six months to two years to complete, depending on the institution. These programs are offered at technical institutes and community colleges and typically include 120 to 150 hours of coursework.
● Pass a National or State Exam to Become Certified – Depending on the state, EMTs and paramedics are required to pass either a state or national licensing exam after completing their training and passing a background check.
Administered through the National Registry of Emergency Medical Technicians (NREMT), the exam includes both cognitive and psychomotor sections and uses computer-adaptive technology to tailor questions based on student response.
● Complete Advanced EMT Training – Advanced EMT training typically requires 300 hours of coursework. In addition to covering the EMT Basic topics, these programs include advanced instruction on using medication, complex airway devices, IVs, and EKGs.
● Complete a Two-year Degree Program To advance to paramedic – The educational requirements for becoming a paramedic are rigorous and typically include completing a two-year degree at a community college or technical school.
Some programs require trainees to work as an EMT for six months before applying. Coursework typically covers anatomy and physiology, as well as advanced life support, which is practiced through clinical training in hospitals and ambulances.
Learn To Save Lives
Here at Northwest Career College, we are committed to providing affordable, quality CPR classes to the Las Vegas community. We pride ourselves on being an American Heart Association (AHA) testing center and we offer Las Vegas CPR classes designed to fit your personal needs and professional schedule. As part of our "student-focused" approach to education we also offer our CPR classes free of charge to all of our students. Call us today at (702) 403-1592 to book your CPR class and become qualified to save a life in just 4 hours!
Written by:
Dr. Thomas Kenny
Chief Compliance Officer