Should I become a Dental Assistant?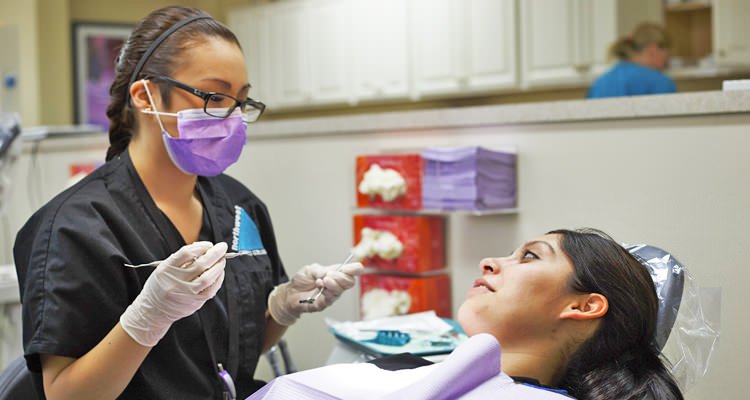 Admit it: You think every scrub-wearing worker in the dentist's office is either a dentist or dental hygienist. Some of them are, but some of the other professionals performing integral tasks in running the office and facilitating care are actually dental assistants. And what do they do?
The short list of their duties includes preparing patients for treatments and teeth cleanings, plus sterilizing instruments. They often assist dentists during procedures by using suction equipment to clear patients' mouths. Dental assistants might also process oral X-rays and help maintain patient records. Depending on their licensing and certification, dental assistants might help with fluoride and sealant applications and polishing teeth and dentures.
According to the Bureau of Labor Statistics, there should be more than 58,000 new openings for dental assistants up to the year 2024. That amounts to 18 percent employment growth, which is much faster than the average for all professions. There are several reasons for the increased openings, including the fact that current generations take better care of their teeth than either their parents or their grandparents, and they regularly visit a dental office. Expanded health insurance coverage has also led to more patients, which should drive the demand for dental assistants in dentists' offices and outpatient care centers.
Dental Assistants rank #17 in Best Health Care Support Jobs. Jobs are ranked according to their ability to offer an elusive mix of factors. Read more about how we rank the best jobs.
Salary
The pay scale for dental assistant's ranges from about $24,580 to $49,540. In 2014, the average pay for dental assistants was $36,260, and the median pay was $35,390.
Training
"The responsibilities of dental assistants are expanding, partially to facilitate more people getting access to care in this country when they can't afford to visit a dentist," Pohl says. "It's not in patients' best interests to receive treatment from someone who isn't fully qualified."
Northwest Career College's accredited program lasts from eight months for the day program to ten months for the night program. For certification, a dental assistant must pass the Certified Dental Assistant exam administered by the Dental Assisting National Board.
Working as a dental assistant is also an excellent launching pad to become a dental hygienist or dentist. The licensing and training are slightly different for each of those positions, but the experience an assistant receives while working with patients, learning safety procedures and navigating the logistics of a dental office could be particularly beneficial for advancing in the dentistry field.
Job Satisfaction
Average Americans work well into their 60s, so workers might as well have a job that's enjoyable and a career that's fulfilling. A job with a low stress level, good work-life balance and solid prospects to improve, get promoted and earn a higher salary would make many employees happy.
In conjunction with US World and News Report 2016