What You Need for Your First Day of College Classes at Northwest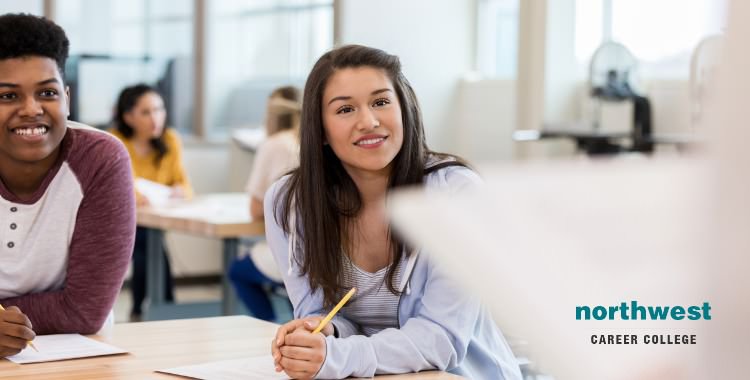 Your first day of classes in any new environment, even one as friendly and welcoming as Northwest, can be pretty daunting. There's a lot for you to learn, a lot of new faces and places, and a lot a people bustling busy around.
While we can't help with how busy you'll be, beyond providing you with flexible class options to suit you busy Las Vegas life, we can make things a little easier by giving you a checklist of what you'll need, in terms of equipment, for your first day of college classes at Northwest.
Your College Essentials
A Study Backpack – Books are heavy, and the chances are that you will be carrying a lot of them, so your first stop should be getting yourself a good sturdy backpack to carry them around in. Your first day is also where you are most likely to receive your orientation materials, which means a fair amount of paperwork, so it's always a good idea to have somewhere to store that as well.
Your Campus Map – Getting around our facilities should be fairly easy, they are all well signposted but, to make things as easy as possible, Northwest has a full 3D tour of our facilities available here. Using this map, you can plot your way around your new collage and make sure you know exactly where you need to be on your first day.
Class Schedule – Timing is everything, the last thing you want is to be rocking up to your classes and finding you are actually half an hour late. Keeping a paper copy of your class schedule means that you'll know exactly where you need to be and at what time, making it invaluable on your first day.
Textbooks – Remember that study backpack? Well, this is why we brought it! We promise we aren't going to load you down with a million books, but the simple fact is that learning subjects like law and medicine does require more than a little reading. Of course, we also try to make these subjects as acceptable as possible, which is why you'll also need……
A Laptop – Many of our subjects are available as hybrid or online courses, so having your laptop to hand is a great way to make sure your course structure is exactly as flexible as you need it to be. For those courses that require a laptop, such as our popular medical billing and coding program, we provide all of our students with one, to make the course as accessible as possible.
A Positive Attitude – Getting the skills and qualifications you need to access a new career is a positive step and one that you have already taken yourself. While you should already be proud of that, you should also take that positively on to the next step, getting the best from your course and using the education we provide to get the job of your dreams.
Federal Funding is Widely Available
Every year, the U.S. Department of Education gives over $120 billion in federal grants, loans, and work-study funds to more than 13 million college students, making it the largest provider of student financial aid in the country. In order to receive their share of these funds, students must complete the Free Application for Federal Student Aid (FAFSA).
Students who complete the FAFSA can qualify for up to $30,000 in aid. Nearly every student is eligible for some form of financial assistance, and it costs nothing to apply.
How Do I Apply for Funding for my Course?
First, just complete the Free Application for Federal Student Aid (FAFSA). You can find a copy of FAFSA form, and a guide to completing it, on the Federal Student Aid website. www.FAFSA.ed.gov.  You can also fill the FAFSA out online here.  Please make sure you enter our school code: 038385. This allows your records to be sent directly to our Financial Aid office so that when you visit the campus, our FA officers can discuss your financial aid package with you in person.
Financial Aid At Northwest Career College
Here at Northwest Career College, we have Financial Aid Officers on staff that can help determine the best financing option for you. To best support our students we offer a range of financial aid including the Pell Grant, Subsidized Loans, Unsubsidized Loans, and Parent Plus Loans. Call us today at (702) 403-1592 to speak with one of our experienced Financial Aid Officers who will help find the best financial support options for you.
Written by:
Dr. Stephanie Kenny,  
Chief Financial Officer